Two years ago, when I first heard about this new event venue in downtown Seattle called 1927 Events from a friend who worked at the catering company, I knew that I just had to work an event there. Like so many venues in downtown, the building has an amazing history that still shows today. Big wooden beams, exposed brick walls, concrete floors. Really, this place is gorgeous!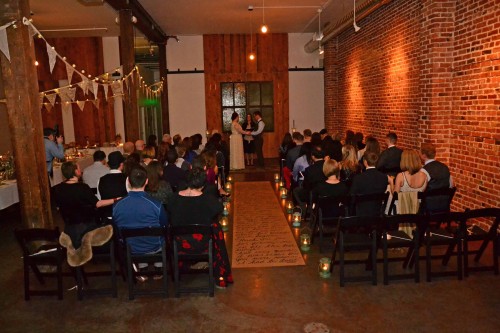 The couple I worked with here were just the right people to work with in a great venue like this one. When we first met, the bride told me about growing up listening to her Dad's record collection and how important music was in their lives. Of course, this caused the meeting to totally derail as we geeked out over each other's record collections. Sometimes you just know that you're gonna get along with a couple!
The ceremony at this wedding was so great. I loved the decorations with old style metal lamps lining the aisle and fitting in perfectly with the huge beams and exposed brick of the venue. Then came the surprise. I new about this in advance, but had no idea it would be this awesome. The bride was telling a story during the ceremony about being in Mexico and having a street performer playing songs for them as they ate dinner. She said the performer asked if he could play them his favorite song. Of course, she obliged. What did he come out with? David Bowie's Space Oddity! As soon as she said this, a friend of theirs appears from around the corner with a guitar and starts belting out an amazing acoustic version of the song. Seriously incredible!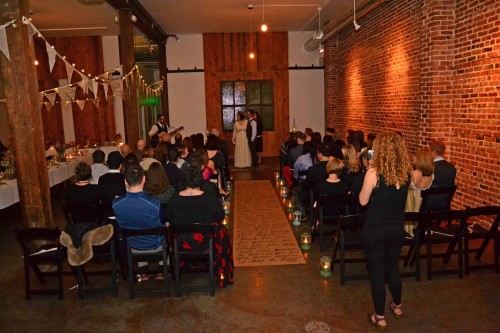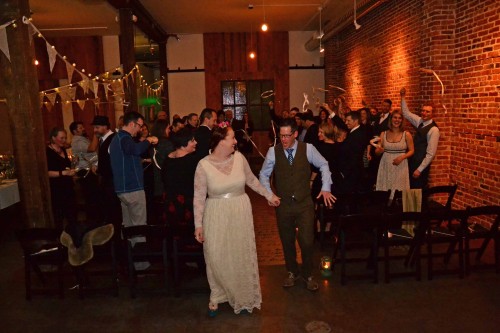 After the ceremony was over, the venue slid the wooden doors open to expose the bar. I had no idea this thing was back there, but wow that sign is sweet!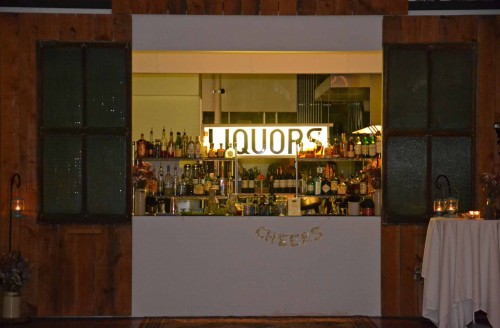 The cocktail and dinner music was awesome. This time of night is really about creating atmosphere and keeping the music from overwhelming the conversation. These guys requested some great stuff with a little indie, a little retro and a little electro. I got way too excited when I saw that they asked for my favorite of all favorite M83 songs, Raconte Moi Une Historie. Don't know the song? Well, take a listen!
After dinner, there was no cake cutting. Just pie! This is a great thing. I was getting ready to put on some warm-up music while everyone at desert, but not these guys! The groom came over and told me they were ready to fire things up and fire things up we did! He asked me to play Rapper's Delight first, so I rolled right from that into some Motown and then some indie dance with and all-time fav in I Don't Feel Like Dancin' by Scissor Sisters and a new fav in DJ Spiller's Groovejet. By the way, if you've never seen Scissor Sisters live, DO IT! I've seen them twice (Once at Coachella and once at Showbox) and they're just damn amazing. I included a live version below just so you can see how great these guys are.
The rest of the night just got bigger from there. Awesome requests and a great dancefloor. Crowds like this are really what make dj'ing weddings in the Seattle area so awesome. Check out the pics from the rest of the night!