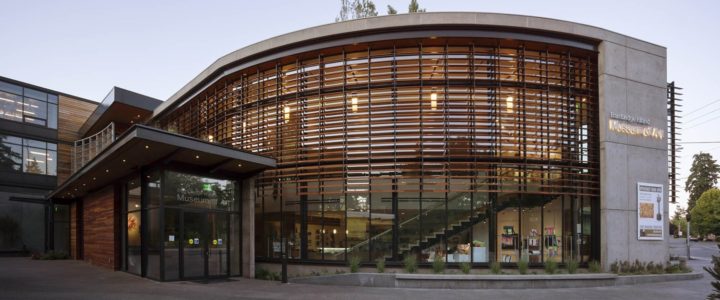 I absolutely love living on Bainbridge Island. In the summer, it's hard to beat our mild, dry climate, incredible views and convenience to Seattle. However, we have a wedding problem: a serious lack of venues.
Until recently, Bainbridge Island's wedding venues consisted of IslandWood and Manor House. I love both, but the scarcity in venues results in both booking very quickly, leaving many couples searching for a local venue. Enter the Bainbridge Island Museum of Art.
This wedding began with a ceremony at the historic Port Madison Lutheran Church. The couple from this wedding lived in San Diego, so when we first talked about this wedding, they briefly mentioned the ceremony location, assuming I wouldn't know where this tiny church was. Enter the comedy: I can see this church from my bedroom window! Also, the church and my house are two of the oldest buildings in our part of Bainbridge (my house was built in 1910, the church was built in 1912).
A wedding at BIMA gets to three spaces, a rooftop loft, the main gallery and outdoors under a tent.
Cocktail hour begins on the rooftop loft. This great location sits right at the entrance to Bainbridge Island, the main intersection of Highway 305 and Winslow Way and overlooks downtown and the ferry terminal.
After the cocktail hour, dinner is held in BIMA's main gallery. Catering at BIMA is by the incredible Simply Bainbridge. Not only is it some of the best food on Bainbridge, it's some of the best catering I've had at a wedding, period.
Dancing isn't allowed inside (it is still an art gallery after all), so dancing is held outdoors under a tent that's included with the venue rental.
For this wedding, things had been pretty mild-mannered and fairly formal to this point. But after the first dance was over, everything changed.
A friend of the bride told me that OAR's "A Crazy Game of Poker" had been a theme song for them in college. This seemed like a weird request since I don't usually think of OAR is prime-time wedding dance music, but I took her word for it and played it first.
She wasn't kidding! I started the song and then looked up to see the bride up on the groom's shoulders screaming the lyrics at the top of her lungs!
The dance floor was jam-packed from that moment until the end of the night. What a great night and a great way to welcome another wedding venue to the island!