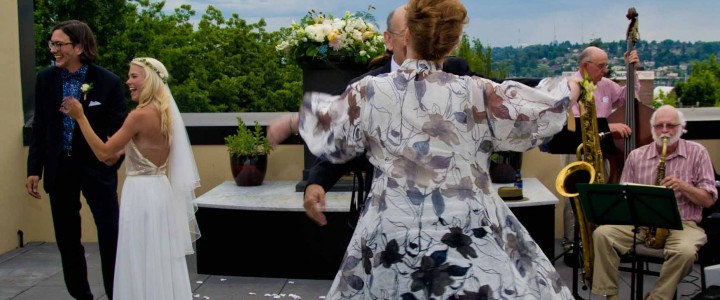 Every year there are just a few weddings that stand out above the rest for one reason or another. Not only was this wedding at Hotel Ballard one of my favorites of the year, it's definitely now an all-timer!
This wedding stood out for a lot of reasons. For one, Hotel Ballard is just a cool place. It's got great views and the food at Stoneburner is just killer! This wedding was made even more amazing by the couple and their guests.
The couple were a website designer and a yoga instructor who were an incredible combination of super-hipster and old south. They had that easy, friendliness of the south mixed with the open-mindedness of their hipsteriness that made them really easy to work with, but also totally willing to really branch out with their music selections.
The ceremony and cocktail music were provided by a really cool gypsy jazz group. After the cocktail hour, I took over for dinner and then the reception.
The first dance song was a combo of Kishi Bashi songs, starting with Q&A and flowing into The Ballad of Mr Steak. What an awesome start!
The guests were really up for whatever I played. There was also this really funny, but totally awesome mix of the couple's Ballard friends and their old-school Louisiana family. Seriously, look at this picture!
The music went all over the place and I couldn't have had more fun playing old favorites  and throwing out newer, more obscure stuff without fear that the guests would be scared of songs they didn't know. There's really no better feeling as a DJ than having the freedom to play all those songs that you never get to play with more traditional groups!