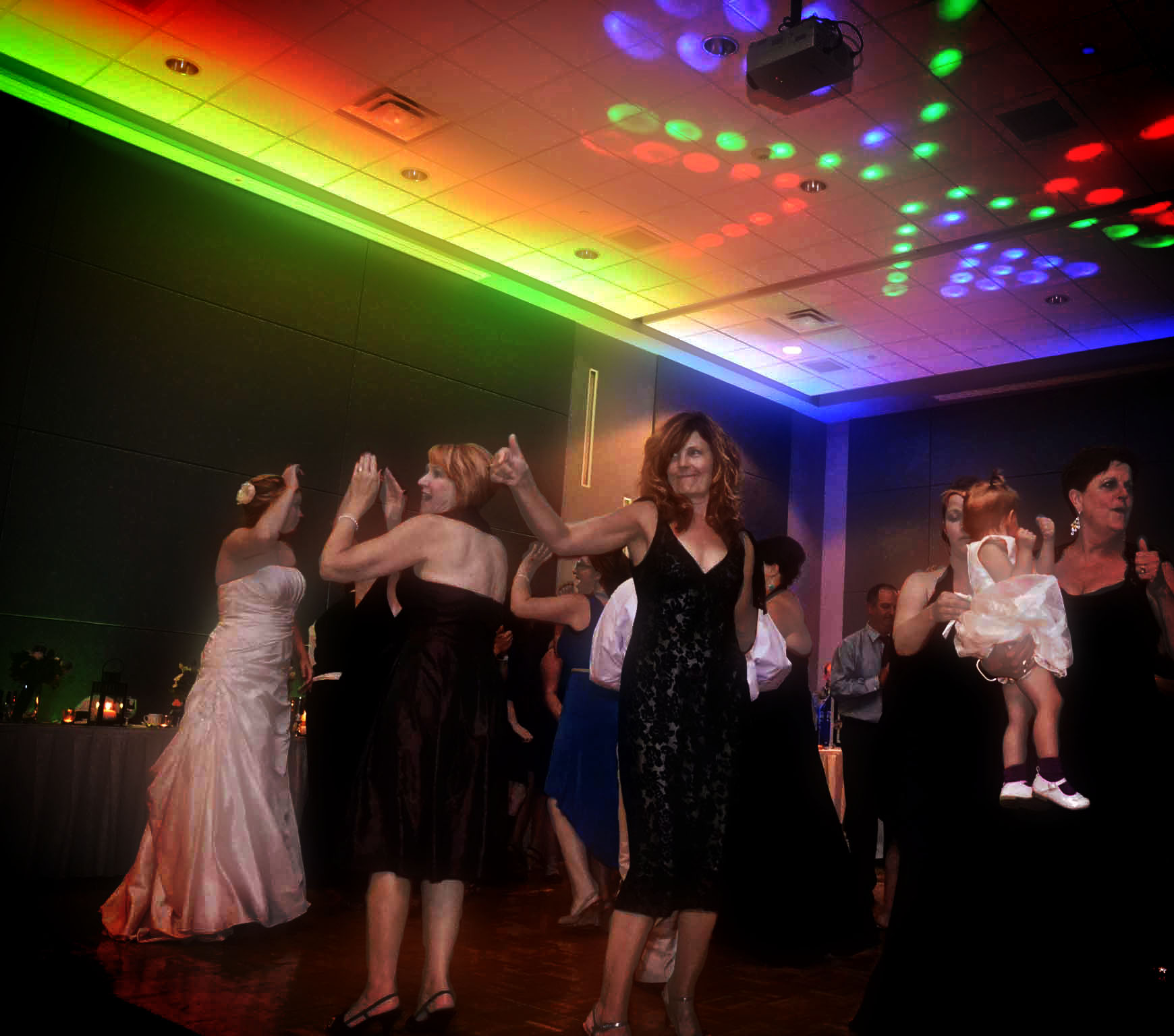 Is your #1 wedding fear having this guy show up at your wedding? Fear not! Ask your dj these questions to find out if your dj has a soul of cheese or a soul of awesome!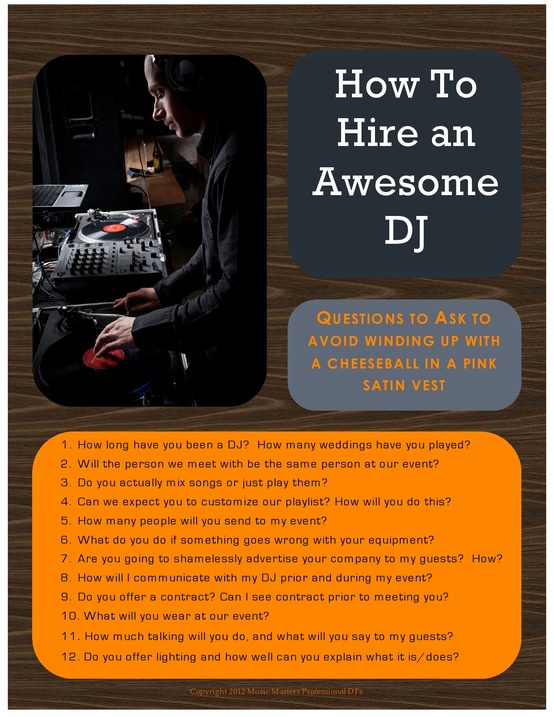 #1. How long have you been a DJ? How many weddings have you played?
One of the primary drivers of what a DJ charges is experience. A teenager who has never DJ'ed outside of his bedroom may be cheap, but would you trust him with the success of one of the most important days of your life?
Something unplanned will happen at every wedding (insert Debbie Downer sound effect here). The caterer's chaffing dishes could keep tripping the circuit breakers and cutting off the venue's power. Your grandmother may get tired and want to leave early to catch Matlock causing your mom to insist that you change your entire timeline so that all the big events happen before she leaves. Dinner might be late. A guest may insist on hearing an awful song that clears the dance floor. A great DJ can handle all of this in stride and your guests will never know anything was wrong.
#2. Will the person we meet be the same person at our event?
Here are some dirty insider secrets of the DJ world:
First, there is an enormous amount of subcontracting that goes on. This is when companies book as many weddings as possible without looking at whether or not they are actually available. If they don't have a DJ available, they'll send out a mass email to other random- ass companies to find a substitute DJ. Yes, it's very likely that your DJ may not even work for the company you hired!  When it comes to who you meet with during a consultation and who shows on the Big Day, well, let's just hope they compared notes.
A large company may have 50 DJ's and it's likely that you'll interview with the owner, not your DJ. This is not a joke. The largest company in Seattle has over 50 DJ's! Think that low price is just a good deal because they book lots of weddings? Nope! Their lowest price is for their worst (think 19 year old with 2 weddings under his belt ever) DJ.
Make very sure that you ask this question at your meeting. Even more importantly, get it in the contract!
#3. Will you actually mix songs or just play them?
Really, this is important. An awkward pause between songs can kill the dancefloor.  A good DJ should know how to put songs together *in an audibly pleasant fashion* to keep the music flowing.  An iTunes playlist on "crossfade" is really not sufficient for Glorious Memory-Making Dance Floor Action unless your crowd is very easily amused or possibly schizophrenic.
#4. Can we expect you to customize our playlist? How will you do this?
You'd be shocked at the number of DJ's who have a standard playlist that they use for every wedding. You're not everybody else. You should expect the music that you love!  
#5. How many people will you send to my event?
The answer to this should be based on how complicated your wedding is. Your DJ shouldn't come with an entourage, but if your wedding has lots of different things going on, two people is much better than one.
#6. What do you do if something goes wrong with your equipment?
Equipment fails. This is a fact of life. Even the best gear isn't fool proof. Your DJ should have backup equipment, or at least back up ideas ready on deck. I keep a second sound system in my truck and have all of my music backed up on my iPod and iPhone. If your DJ doesn't have a backup plan, something bad is bound to happen (ominous music).
#7. Are you going to shamelessly advertise to my guests? How?
Nothing looks worse at a wedding than a big banner across the DJ's table. Business cards on the table are standard, but your DJ shouldn't be plugging his or her business on the mic or ruining your decor with flashy advertising banners.  This is in poor taste and once it happens, you can't make it un-happen. ASK!  Then maybe have them write it down.
#8. How will I communicate with my DJ prior to and during my event?
You're going to have questions and weird little requests. Lots of them. This is totally normal and your DJ should be available to help you. This is important before your wedding, and even more important during your wedding. If your DJ is continually unavailable, or doesn't seem to like talking to you, find someone else. Now.
#9. Do you offer a contract? Can I see the contract prior to meeting you?
One of the worst things I hear from customers is a current trend of wedding vendors skipping town leaving the couple high and dry right before their wedding. For one, don't hire a DJ from Craigslist. Second, ask to see a business license. Third, look for reviews from past clients. If you can't find them on sites like WeddingWire, Gigmasters, Yelp!, or The Knot, you should be suspicious. Most importantly, don't hand over any money without a contract. Scan the contract looking for anything fishy.
You should get a few critical questions answered in the contract. What happens if the DJ gets sick and can't make it to my wedding? What if you're terrible and I want my money back? What if your equipment fails and there's no music at my wedding? How much is the deposit? (50% is the standard) When is the balance due? A solid contract protects both the client and the DJ.
#10. What will you wear at our event?
A sparkly vest should probably send you looking for another DJ. If your DJ looks like a magician, you should probably run for the door..or expect a free magic show if that's your bag.
These days, a tux is also usually only for grooms. You should expect the DJ to dress somewhere between the level of your wedding party and your guests.  A great DJ will be a bit like a wedding Ninja. You won't see him moving around because he is not wearing an orange cocktail dress adorned with feathers and flashing party lights.  This is good. Again, unless this is your bag. In that case, if he is willing, you have hired a winner!
#11. How much talking will you do and how will you talk to my guests?
Some DJ's love to hear themselves talk. Some DJ's are terrified of the mic. Some DJ's think they work in a strip club and hearing them talk will make you want to stick your salad fork in your eye. How your DJ answers this question will give you a lot of insight into how this person will act at your wedding.
#12. Do you offer lighting and how well can you explain what it is/does?
Cool lighting can really make your wedding. However, bad lighting can be obnoxious and ruin your evening. If you're booking lighting, ask lots of questions. What you don't want is lights shining in your eyes (behind the DJ, pointed at the dancefloor) or lots of flashing lights with no background lighting (which will cause you to think you're having a seizure..or actually experience one). Ask for video or pictures to make sure it's what you want.
Still not sure? Here are some examples of what you may not want.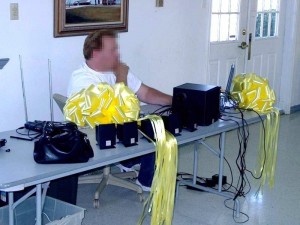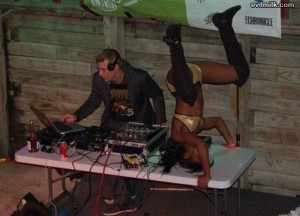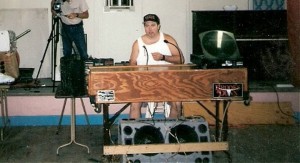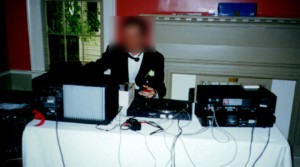 Want some more epic dj fails? Check out the endless supply at http://nothanksdj.wordpress.com/