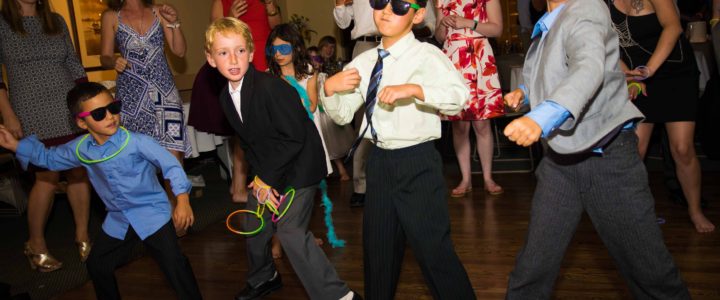 I'm a music nerd. Let's just get that out in the open from the beginning. This immediately attracts me to other music nerds, and man, when I saw the request list for this wedding, I got really excited. 
Everything started with cocktail and dinner music. In general, music during these times is quiet background music that doesn't get a lot of attention. Conversation is the focus during these times, because hey, weddings are about getting family and friends together and those people want to get a chance to talk to each other!
This doesn't mean the music should be boring, though. It's about creating atmosphere and boy did this couple ask for some atmosphere that I love.
Their cocktail music was largely indie rock and went all over the place hitting some really great songs including the First Aid Kit's stunning My Silver Lining.
Part way through cocktails came the couple's grand entrance, and man was it GRAND! They really wanted to make a statement while also really capturing who they are as a couple. So, what did they walk in to? Bassnectar! Talk about an epic entrance!
Dinner music (as it should be) was a bit more low-key and included a lot of downtempo. The first dinner song I saw on the request list that really got me going was Morcheeba's The Sea.
I promptly followed that with one of my all-time favorites, Rise by Samantha James.
Once the dancing started, it was a rocking and VERY full dance floor all night! There's nothing more fun that being able to step away from the more traditional weddings songs and play for a crowd that's really open-minded and musically educated. An early hit was A-Trak's Ray Ban Vision.
We topped it all off with the bride's request for the last song of the night, and a song that I've loved from the second it came out, Robyn's incredible collaboration with Royskopp, Do It Again.
What an all-around incredible night at Lake Washington Rowing Club. Check out the pics!