Washington is a great state for those who love the outdoors and NatureBridge is the perfect place to immerse yourself in Washington's mountains, forests and lakes, all in one spot! 
NatureBridge is an outdoor education center nestled in the forest along the shores of Lake Crescent, about 30 minutes West of Port Angeles. Surrounded by giant Douglas Firs and sitting along the Northern edge of the Olympic Mountains, this is Washington at its best.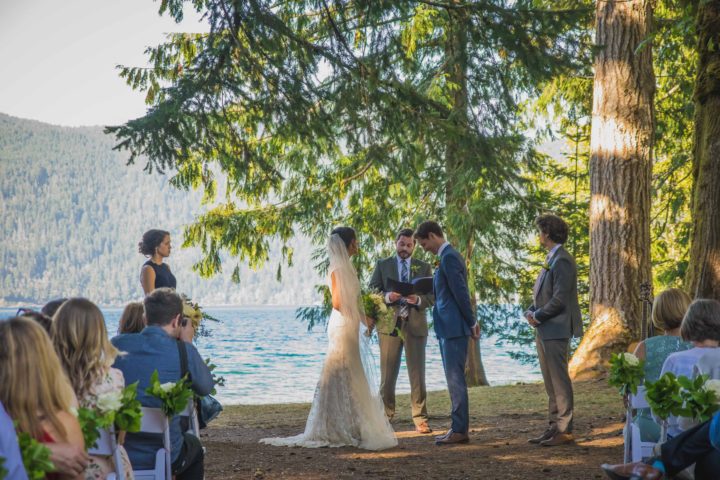 I was lucky enough at this wedding to work with the incredible coordinating team at Perfectly Posh Events. Planning a wedding in the middle of the woods, two hours from the couple's home in Seattle, off-site catering and 3 days on site in a 150 year-old-building is no joke and these guys nailed it!
The ceremony was held in a clearing along the shore of Lake Crescent and next to a grove of giant Douglas Firs and was followed by cocktails, dinner and games on the expansive lawn.
After dinner, we moved into the Roosevelt House to get the dance party started. And what a dance party we had!
A great part of having a wedding at NatureBridge is that there are cabins around the property were you can put up around 50 guests. Not only is there no mandatory end time for your wedding, but you can stay all night!
And boy, stay all night they did. The dance floor was absolutely rocking from beginning to end, and they even hired me to stick around for an extra hour. You know what? Four hours of dancing still wasn't enough for these guys! They'd rented a sound system, and kept going, even after I left at midnight!