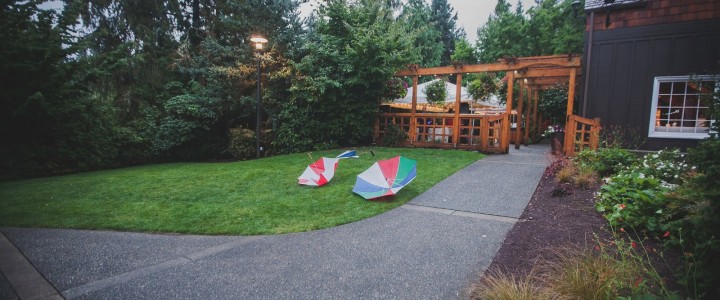 They say rain on your wedding day is good luck, but I don't think this beautiful wedding needed any more luck! The marriage of this adorable couple took place during a torrential downpour in late July, which is extremely rare in the Pacific Northwest! In a strange way, most rainy weddings are tons of fun and this one proved to be even more exceptional.
The overcast day lent a soft, diffused light for some truly stunning pictures taken by the talented photographers at Urban Light Studios. Maybe it was the rain and maybe it was the magical day, but these wedding pictures have an even more 'real' feeling to them because everyone seemed to lower their guard and just have fun. I guess when the weather doesn't cooperate, you have to be open to whatever happens and that's where the fun starts!
Because of the rainstorm, we all ended up packed under a big tent. Even with the rain coming down so hard that it was blowing under the tent, the party didn't stop. Those dance floor shots show the party is rockin'!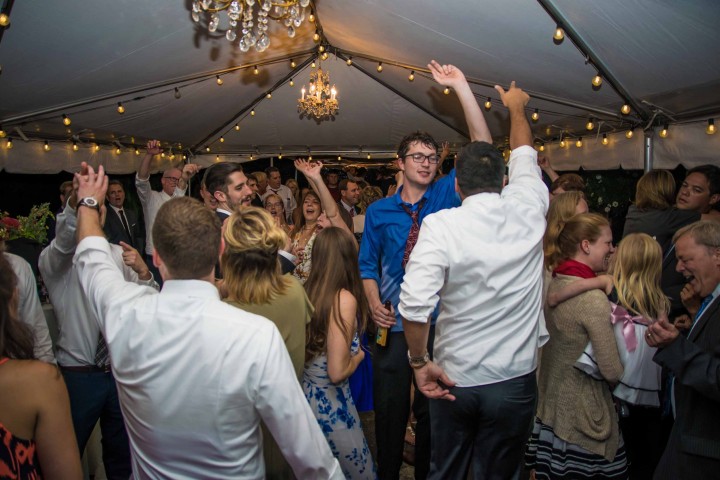 Robinswood House is an amazing venue for a wedding, and the addition of furniture by Vintage Ambiance really set the scene. It's lush, green and nestled in a perfect location in the heart of Bellevue – but you can still turn up the music and feel as if you're in a world of your own! Add in a variety of delicious cheeses, a carving station and a creative selection of finger foods by Twelve Baskets, and you have the perfect set up for a glorious wedding!
Everybody was a trooper at this wedding, and the lovely bride and groom led the charge by refusing to let the weather alter their joy. Neither they nor their wedding party, with the bridesmaids in beautiful floor length floral dresses, shied away from taking pictures in the rain, making for a lot of gorgeous memories.
From the floral dressing robes the bridal party wore getting ready to the multi-hued bouquets and arrangements by Bond in Bloom, to the pop of purple flowers on the three-tier cake by Honey Crumb Cake Studio, the wedding was a riot of color on a gray day. It suited this gorgeous couple perfectly, and was a wonderful celebration of their love.
Featured Vendors:
Photography:  Urban Light Studios
Venue: Robinswood House
Furniture: Vintage Ambiance
Caterer: Twelve Baskets
Cake: Honey Crumb Cake Studio
Florist: Bond in Bloom
Wedding Dress: Amsale