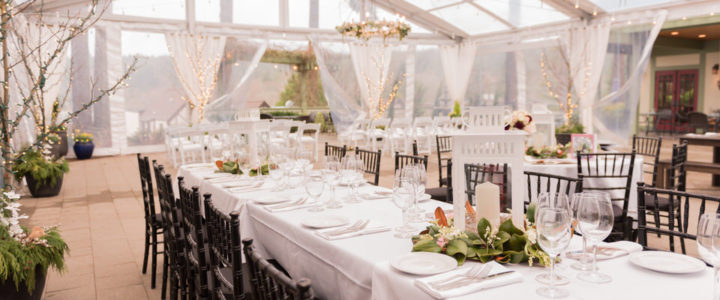 Booking season can be pretty hectic with a huge flow of inquiries, email answering, phone calls and meetings. Despite its craziness, it's incredibly fun getting the chance to talk to newly-engaged couples and share their excitement in planning one of the biggest days of their lives. 
Manor House at Pleasant Beach Village is one of my absolute favorite wedding venues, and I was just fortunate enough to participate in their open house this past weekend.
I was amazing to meet so many lovely couples and hear their incredible engagement stories and wedding plans. Their excitement is so contagious and always gets me hyped for the upcoming wedding season!
It was also a great opportunity to reconnect with several of Bainbridge Island's very talented wedding vendors. It's hard to believe how much talent is packed onto our little island!
Holly Rohrbacher of Holly Rohrbacher Events was on hand to talk with couples about her wedding coordination and planning services. Holly and I have worked on MANY weddings together, and she's truly one-of-a-kind. Exceptionally organized with great artistic vision and loads of experience, she's an invaluable asset for couples wanting to put their personal style on display at their wedding and ensure the day goes off without a hitch!
Christina Servin and Catie Cleveland blew me away with their photography samples and it was so much fun hearing them chat with couples about their services. As much as I interact with photographers during the wedding day, I rarely get to see what goes into planning a wedding or the final product. I absolutely love working with both of these talented photographers and now I have an even greater appreciation for the work that they do!
Local Bainbridge Island florist Flowering Around, who were just awarded Best Florist by Best of Bainbridge 2017, also contributed their floral designs to the event. In my many years of working at weddings on the island, Flowering Around has done the floral arrangements for nearly every single one. I'm always impressed by their work at weddings and I'm a regular customer in their Winslow Way shop as well!
Last, but not least, our gracious hosts for the day, Manor House, are one of my favorite venues. They really have the total package. A gorgeous building surrounded by impeccable landscaping and gardens, amazing food by Chef Joe and host, Yolanda, who is very deserving of her recent selection as Best Server by Best of Bainbridge 2017.
My favorite moment of the day was meeting a future bride who'd been researching wedding venues and when she searched for Manor House, a picture of her close friend from her medical residency rocking out at a Manor House wedding showed up. She was sold! The photo was actually from my blog about the first wedding I ever did at Manor House in 2013, their first year as an event venue. What a small world!
It was a great day in celebrating love, marriage and small town business. Now, bring on the wedding season!